Farming in the city centre / Episode 2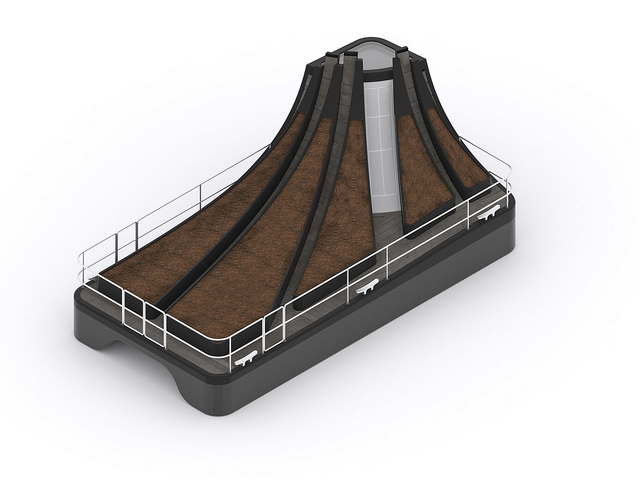 FLOATING FAMILY GARDENS
The Ekovores grow FLOATING FAMILY GARDENS
These barge/vegetable gardens along the Loire's banks enable vegetable production and know-how exchange in the city centre. Combined or adjacent, set along the river's banks, taking maximum advantage of the sun's rays, they create a vast horticultural landscape on the water.
Assigned to amateur gardeners, they mean anyone in the city can discover the art of vegetable gardening.
Equipped with folding greenhouses, the plantations are protected from frost and bad weather.
Irrigation water is directly taken from the Loire, though, so gardens should be watered when the tide is going out: the salinity of the estuary's water can harm certain crops.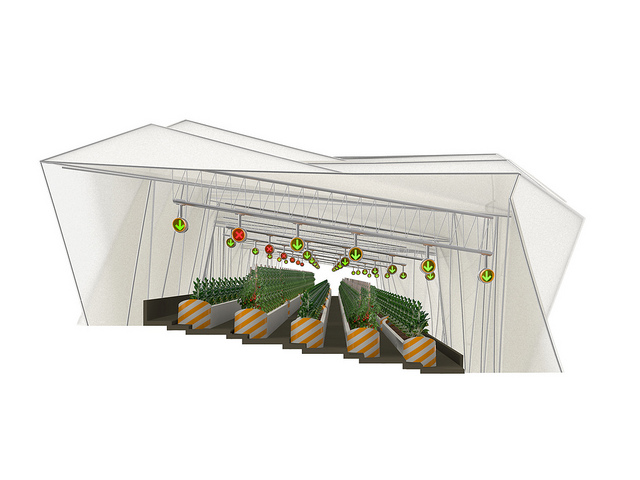 TUNNEL GREENHOUSES
The Ekovores install TUNNEL GREENHOUSES forming a horticultural pastoral promenade along the Loire's banks.
Time's up for the riverside expressways; now's the time for the Ekovores to claim them back via soft mobility initiatives!
The tunnel greenhouses copy motorway tunnel traffic lights, forbidding or allowing movement along certain aisles.
Gardeners can thus work in peace whilst passers-by use adjoining aisles, so everyone can jog amidst scents of thyme, basil and celery.
Installed on the Loire's banks, on flood plain land, this 'submersible' market garden adapts to the river's fury to offer a unique production area the rest of the time.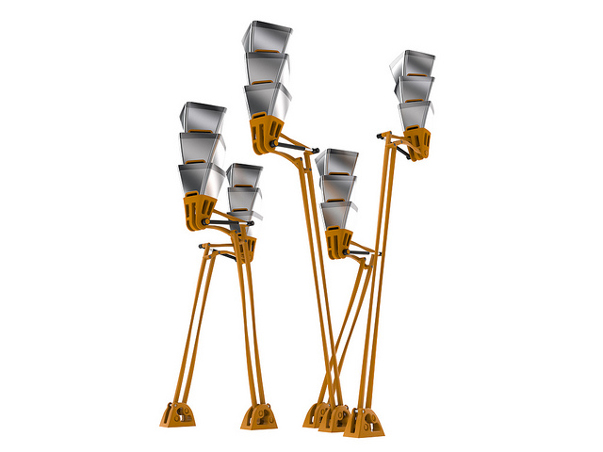 URBAN HIVES
The Ekovores set up URBAN HIVES to welcome bees to their districts.
Sited on public roundabouts, these hives sit on stilts, offering a refuge to bees whose existence is mortally threatened by pesticide use in rural areas.
Urban bee-keepers in their overalls use stilts to harvest the honey. Queen bee jelly and honey cakes can be obtained by local inhabitants.
With pollen foraged from gardens, parks and tree-lined boulevards, this urban wild honey is centrifuged and packaged in local honey shops, then sold at local markets.